After Michelangelo (1475–1564)
Leda and the Swan, c. 1530
copy of a lost painting by Michelangelo

The design appears to derive from a classical motif known from copies after sarcophagus reliefs and gems. The pose is similar to that of Michelangelo's 'Night' (Medici Chapel, Florence). 
The work is probably an old copy after a painting of this subject by Michelangelo which he made in 1530, in tempera, for the Duke of Ferrara, but which was sent instead to the King of France. More

Leda and the Swan is a story and subject in art from Greek mythology in which the god Zeus, or Jupiter, in the Roman version, in the form of a swan, seduces or rapes Leda,  the daughter of the King of Aetolia, and married to the Spartan King Tyndareus. According to later Greek mythology, Leda bore Helen and Polydeuces, children of Zeus, while at the same time bearing Castor and Clytemnestra, children of her husband Tyndareus, the King of Sparta. 
after Michelangelo Buonarroti, 1475–1564
Leda and the Swan, after 1537

In his lifelong quest to acquire all things Italian, François I always sought to attract the greatest lights of Italian painting to his court. While he succeeded in convincing the aged Leonardo to enter his service in 1516, and, in so doing, obtained the Mona Lisa for France, the transalpine journey was a difficult and dangerous one, and neither Andrea del Sarto nor the notoriously overcommitted Michelangelo could accept François's invitation.
However, a rare panel painting of Leda and the Swan by Michelangelo did make its way to France in the possession of Michelangelo's pupil, Antonio Mini, who seems to have sold it to François. It entered the royal collection at Fontainebleau in the early 1530s, and François's court painter, Rosso Fiorentino, even painted a copy of it. The painting has since been lost. This print, engraved and published by the Flemish artist Cornelis Bos, is the only record of Michelangelo's completed painting. Bos, whose first prints date to 1537, must have seen the work at Fontainebleau during a journey to France sometime after this date. More
Leda and the Swan, c.  (1460)
Domenico Ghirlandaio (1449 – 11 January 1494) was an Italian Renaissance painter from Florence. Ghirlandaio was part of the so-called "third generation" of the Florentine Renaissance, along with Verrocchio, the Pollaiolo brothers and Sandro Botticelli. Ghirlandaio was the leader of a large and efficient workshop which included his brothers Davide Ghirlandaio and Benedetto Ghirlandaio, his brother-in-law Sebastiano Mainardi from San Gimignano and later his son Ridolfo Ghirlandaio. Among the many apprentices that passed through his workshop, the most famous was Michelangelo. Ghirlandaio's particular talent was his ability to depict contemporary life and portraits of contemporary people within the context of religious narratives. This brought him great popularity and many large commissions. More
Peter Paul Rubens (1577–1640)
" Leda and the Swan "  before 1600
64.5 × 80.5 cm (25.4 × 31.7 in)

Peter Paul Rubens was a well known artist during the Baroque era. He completed hundreds of works in various mediums—many were famous at the time and still are today. But there are also many works of art that people don't know much about. One of these works is his painting Leda and the Swan. He painted two versions of this subject. The first was completed in 1601 and the second was completed in 1602. More

In the W. B. Yeats version, it is subtly suggested that Clytemnestra, although being the daughter of Tyndareus, has somehow been traumatized by what the swan has done to her mother. According to many versions of the story, Zeus took the form of a swan and raped or seduced Leda on the same night she slept with her husband King Tyndareus. 
Antonio da Correggio (1490–1534)
Leda with the Swan, c. between 1531 and 1532
Height: 152 cm (59.8 in). Width: 191 cm (75.2 in).

Correggio painted the commonest of the various versions of the ancient myth: Jupiter approached Leda on the banks of the river Eurota in the guise of a swan and seduced her. Leda and the swan can be seen on the bank in front of a clump of trees, on the left are two amoretti with wind instruments and a boyish Cupid with his lyre. lt is uncertain whether the figures on the right are Leda's companions or a simultaneous presentation of other scenes from the story. 

Correggio was the leading painter of the Parma school of the Italian Renaissance. Between 1503 and 1505 he was apprenticed to Francesco Bianchi Ferrara of Modena where he became familiar with the classicism of artists like Lorenzo Costa and Francesco Francia, who deeply influenced his first works. His first major commission was the decoration of the ceiling of the private dining salon of the mother-superior in the Convent of St. Paul in Parma in 1519. The dome of the Cathedral of Parma was also adorned by him. Apart from his religious artworks, he created a very prominent set of mythological paintings based on Ovid's Metamorphoses.

Correggio prefigured the Rococo art of the 18th century in his use of dynamic composition, illusionistic perspective and dramatic foreshortening. 'Leda with the Swan' (1531-32) is one of his best known works among his famous frescoes in Parma. More
Leda and the Swan (c. 1536)
Museo Nazionale del Bargello 
This sculpture of Leda is essentially a study piece, a small-scale work that translates a now lost Michelangelo design into three-dimensions. It shows Ammanati attempting to master the kinds of figural inventions that defined Michelangelo's artistry, but the choice to carry out the composition in stone also reflects an awareness that the sculptor did not work in absolute liberty, that he always had to deal with the given block.
Ammanati sent the statue to Francesco Maria della Rovere, the Duke of Urbino. More
Luca Cambiaso (1527-1575)
Leda and the swan, between 1560 and 1570
L
eda and the swan is an extraordinary style painting belonging to a period of Luca Cambiaso not always supported by the same creative impulse. The work in fact, referring to the years around 1570, is definitely one of the greatest achievements in the purity of lines and elegant stylized forms. The imposing figure of the swan, which houses within the great wings of the diaphanous body Leda, manages to preserve the majesty of the father of the gods, Zeus, hiding under his remains, according to the myth that describes one of the most fascinating amorous tricks. In 1999 Maria Cali in the book "The second manner of profane paintings by Luca Cambiaso" published "Leda and the Swan" as an authentic work of the painter Ligurian emphasizing in a special way as the theme dedicated to the loves of Jupiter in the Italian painting of the early sixteenth century was particularly widespread episode of fertilization of the fascinating queen of Spartan by Jupiter by turning into a swan… More
Leda and the Swan 
Mural in Herculaneum (Italy) – c 150 b.C

In some versions, she laid two eggs from which the children hatched. In other versions, Helen is a daughter of Nemesis, the goddess who personified the disaster that awaited those suffering from the pride of Hubris.
Francesco Melzi (ca. 1491 – 1568/1570) was an Italian painter. He was the son of a Milanese noble family. Melzi joined the household of Leonardo da Vinci in 1506. He accompanied Leonardo on trips to Rome in 1513 and to France in 1517. As a painter, Melzi worked closely with and for Leonardo. Some works which, during the nineteenth century, were attributed to Leonardo are today ascribed to Melzi.[citation needed]

Upon Leonardo's death, Melzi inherited the artistic and scientific works, manuscripts, and collections of Leonardo, and would henceforth faithfully administer the estate. Melzi wrote to Leonardo's brothers to notify them of his death, and in this letter he described Leonardo's love for his pupils as "sviscerato e ardentissimo amore" a selfless and incandescent love.
Returning to Italy, Melzi married, and fathered a son, Orazio. When Orazio died on his estate in Vaprio d'Adda, his heirs sold the collection of Leonardo's works. More
Francesco d'Ubertino Verdi, called Bachiacca (1494–1557) was an Italian painter of the Renaissance whose work is characteristic of the Florentine Mannerist style. He was born and baptized in Florence on March 1, 1494 and died there on October 5, 1557. He apprenticed in Perugino's Florentine studio, and by 1515 began to collaborate with Andrea del Sarto, Jacopo Pontormo and Francesco Granacci on painted furnishings for the bedroom of Pierfrancesco Borgherini and Margherita Acciauoli. In 1523, he again participated with Andrea del Sarto, Franciabigio and Pontormo in the decoration of the antechamber of Giovanni Benintendi. While he established a reputation as a painter of predellas and small cabinet pictures, he eventually expanded his output to include large altarpieces, such as the Beheading of St. John the Baptist, now in Berlin.
In 1540, Bachiacca became an artist at the court of Duke Cosimo I de' Medici and Duchess Eleanor of Toledo. In this capacity, Bachiacca's first major commission was to paint the walls and ceiling of the duke's private study with plants, animals and a landscape. Bachiacca also made cartoons for two series of tapestries, the Grotesque Spalliere (1545–49) and the Months (1550–1553), which were woven by the newly founded Medici tapestry works. All of these works either contain carefully observed illustrations of nature or display the artist's trademark method and style, in which Bachiacca combines figures, exotic costumes and other motifs acquired from Italian artists and German and Netherlandish prints into entirely new compositions. These cosmopolitan assemblages exhibited the most praiseworthy elements of both northern and southern European Renaissance art, which appealed to their courtly clientele. More

The subject was rarely seen in the large-scale sculpture of antiquity, although a representation of Leda in sculpture has been attributed in modern times to Timotheos; 

Timotheus  was a Greek sculptor of the 4th century BC, one of the rivals and contemporaries of Scopas of Paros, among the sculptors who worked for their own fame on the construction of the grave of Mausolus at Halicarnassus between 353 and 350 BC. He was apparently the leading sculptor at the temple of Asklepios at Epidaurus, c. 380 BC. To him is attributed a sculpture of Leda and the Swan in which the queen Leda of Sparta protected a swan from an eagle, on the basis of which a Roman marble copy in the Capitoline Museums is said to be "after Timotheus". The theme must have been popular, judging by the more than two dozen Roman marble copies that survive. The most famous version has been that in the Capitoline Museums in Rome, purchased by Pope Clement XIV from the heirs of Cardinal Alessandro Albani. A highly restored version is in the Museo del Prado, and an incomplete one is in the Yale University Art Gallery, New Haven, Connecticut. More

Giambettino Cignaroli (Verona, July 4, 1706 – Verona, December 1, 1770) was an Italian painter of the Rococo and early Neoclassic period. He was a pupil of Santo Prunato and Antonio Balestra and active mostly in the area of the Veneto. He became the director of the academy of painting and sculpture of Verona in December 1764. The Academy was subsequently known as Accademia Cignaroli. Among his many pupils were Giovanni Battista Lorenzi, Saverio Dalla Rosa, Domenico Mondini, Domenico Pedarzoli, and Cristopher Unterberger. His brother Giovanni Domenico Cignaroli was also a painter.

For the Austrian governor of Lombardy and a collector of antiquities, Count Karl von Firmian, Cignaroli painted two canvases on Greco-Roman episodes, a thematic preferred by Neoclassic painters: Death of Cato (1759) and Death of Socrates.
Giambettino was born into a family of artists, and this tradition continued after his death with his children. Artists from his family who were contemporaries and elders of Giambettino include his uncle Leonardo Seniore, and his two sons (cousins of Giambettino), Martino and Pietro. More

small-scale sculptures survive showing both reclining and standing poses, in cameos and engraved gems, rings, and terracotta oil lamps. Thanks to the literary renditions of Ovid and Fulgentius it was a well-known myth through the Middle Ages, but emerged more prominently as a classicizing theme, with erotic overtones, in the Italian Renaissance.

Heinrich Lossow (10 March 1843 in Munich, Germany – 19 May 1897 in Schleissheim, Germany) was a German genre painter and illustrator. He was a prolific pornographer in his spare time. Lossow's father was Arnold Hermann Lossow, a Bremen sculptor. His father moved to Munich in 1820 to study under Ernst Mayer. In Munich, Arnold Hermann Lossow married and had three children: Carl Lossow in 1835, Friedrich Lossow in 1837, and Heinrich Lossow in 1843. The three boys had an affinity for art; Carl became a historical painter, while Friedrich became a wildlife painter. Heinrich would outlive all of his siblings.

He first trained under his father but would go onto study under Karl Theodor von Piloty at the Munich Academy of Fine Arts. He then travel through France and Italy perfecting his art.

His was an illustrator for publishers, including one for an edition of William Shakespeare's The Merry Wives of Windsor.
Later in his life, he served as a curator at the Schleissheim Palace More

"Leda and the Swan" is also sonnet by William Butler Yeats first published in1924. Combining psychological realism with a mystic vision, it describes the swan's rape of Leda. It also alludes to the Trojan war, which will be provoked by the abduction of Helen, who will be begotten by Zeus on Leda (along with Castor and Pollux, in some versions of the myth). Clytaemnestra, who killed her husband, Agamemnon, leader of the Greeks at Troy, was also supposed to have hatched from one of Leda's eggs. The poem is regularly praised as one of Yeats's masterpieces. Camille Paglia, who called the poem "the greatest poem of the twentieth century," and said "all human beings, like Leda, are caught up moment by moment in the 'white rush' of experience

Jean-Henry D'arles (1734-1784)  was a French landscape painter whose theatrically illuminated landscapes display a close observation of nature and its effects. He won first prize of the Academy of Painting and Sculpture in Marseille in 1753. D'Arles would also have been influenced by Joseph Vernet (1714-1789) whose 'Tempest' he would have seen at the 'Exhibition du Paysage Francais' in 1756. More
Géricault's first major work, The Charging Chasseur, exhibited at the Paris Salon of 1812, revealed the influence of the style of Rubens and an interest in the depiction of contemporary subject matter. This youthful success, was followed by a change in direction: for the next several years Géricault produced a series of small studies of horses and cavalrymen. In the nearly two years that followed the 1814 Salon, he also underwent a self-imposed study of figure construction and composition, all the while evidencing a personal predilection for drama and expressive force.
François-Edouard Picot (Paris, 10 October 1786 – 15 March 1868, Paris) was a French painter during the July Monarchy, painting mythological, religious and historical subjects. Picot won the Prix de Rome painting scholarship in 1813 , and gained success at the 1819 Salon with his neoclassical L'Amour et Psyché..
He painted the The Crowning of the Virgin in the church of Notre-Dame-de-Lorette  and had large commissions for the Galerie des Batailles. He exhibited at the Paris Salon between 1819 and 1839. Elected to the Paris Academy in 1836, Picot was also created an officer of the Legion of Honor in 1832. More

For the ancient Greeks, the constellation Cygnus, which means "swan", was related to the myth of Zeus and the goddess Nemesis. In order to escape from Zeus, Nemesis changed herself into many different animals. When she changed into a goose, Zeus immediately transformed himself into a wonderful swan and won the love of Nemesis.

The goddess became pregnant, delivered an egg and then abandoned it. Fortunately, a shepherd found the egg and gave it to Leda, the wife of Tyndareus, the king of Sparta. From that egg came Helen of Troy. Helen was so beautiful that Leda claimed her as her own child.
The constellation Cygnus was formed to celebrate the lovely swan. According to another version of the myth, Zeus transformed himself into a swan to court Leda, the queen of Sparta. and from that relationship, Leda had two children: Polydeuces and Helen. More
Eugène Delacroix
Leda and the Swan, c. 1834
fresco
63 x 88 cm
One of a series of three made for the Abbaye de Valmont, now in Musée Delacroix in Paris.
Ferdinand Victor Eugène Delacroix ( 26 April 1798 – 13 August 1863) was a French Romantic artist regarded from the outset of his career as the leader of the French Romantic school. His use of expressive brushstrokes and his study of the optical effects of colour profoundly shaped the work of the Impressionists, while his passion for the exotic inspired the artists of the Symbolist movement. A fine lithographer, Delacroix illustrated various works of William Shakespeare, the Scottish writer Walter Scott and the German writer Johann Wolfgang von Goethe.
In contrast to the Neoclassical perfectionism of his chief rival Ingres, Delacroix took for his inspiration the art of Rubens and painters of the Venetian Renaissance. Dramatic and romantic content characterized the central themes of his maturity, and led him not to the classical models of Greek and Roman art, but to travel in North Africa, in search of the exotic. Friend and spiritual heir to Théodore Géricault, Delacroix was also inspired by Lord Byron, with whom he shared a strong identification with the "forces of the sublime", of nature in often violent action.
However, Delacroix was given to neither sentimentality nor bombast, and his Romanticism was that of an individualist. In the words of Baudelaire, "Delacroix was passionately in love with passion, but coldly determined to express passion as clearly as possible. More
William Etty, English, 1787-1849
Study for "Leda and the Swan", c.1840
Oil on canvas
16-3/4 x 21 in. (42.5 x 53.3 cm)
William Etty (10 March 1787 – 13 November 1849) was an English artist best known for his history paintings containing nude figures. He was the first significant British painter of nudes and still lifes. Born in York, he left school at the age of 12 to become an apprentice printer in Hull. He completed his apprenticeship seven years later and moved to London, where in 1807 he joined the Royal Academy Schools. There he studied under Thomas Lawrence and trained by copying works by other artists. Etty earned respect at the Royal Academy of Arts for his ability to paint realistic flesh tones, but had little commercial or critical success. More
Helen was one of the most important figures in Greek history, her influence on the ancient Greek world cannot be overstated. She is unfairly blamed for the Trojan War that caused the deaths of thousands of mortal men and women as well as dozens of demigods. The Trojan War was planned and executed by the Immortals … Helen was simply a convenient tool to be used and then discarded to achieve the higher, divine goals of Zeus and the other Olympians.
Gustave Moreau (6 April 1826 – 18 April 1898) was a French Symbolist painter whose main emphasis was the illustration of biblical and mythological figures. As a painter, Moreau appealed to the imaginations of some Symbolist writers and artists. Born in Paris, Moreau initially studied under the guidance of François-Édouard Picot and became a friend of Théodore Chassériau, whose work strongly influenced his own. His first painting was a Pietà which is now located in the cathedral at Angoulême. He showed A Scene from the Song of Songs and The Death of Darius in the Salon of 1853. In 1853 he contributed Athenians with the Minotaur and Moses Putting Off his Sandals within Sight of the Promised Land to the Great Exhibition.

Moreau became a professor at Paris' École des Beaux-Arts in 1891 and among his many students was fauvist painter Henri Matisse.

Moreau died in Paris and was buried there in the Cimetière de Montmartre.

During his lifetime, Moreau produced more than 8,000 paintings, watercolors and drawings, many of which are on display in Paris' Musée national Gustave Moreau at 14 rue de la Rochefoucauld (9th arrondissement). The museum is in his former workshop, and began operation in 1903. André Breton famously used to "haunt" the museum and regarded Moreau as a precursor of Surrealism.
Paul Cézanne (19 January 1839 – 22 October 1906) was a French artist and Post-Impressionist painter whose work laid the foundations of the transition from the 19th-century conception of artistic endeavour to a new and radically different world of art in the 20th century. Cézanne's often repetitive, exploratory brushstrokes are highly characteristic and clearly recognizable. He used planes of colour and small brushstrokes that build up to form complex fields. The paintings convey Cézanne's intense study of his subjects.

Cézanne is said to have formed the bridge between late 19th-century Impressionism and the early 20th century's new line of artistic enquiry, Cubism. Both Matisse and Picasso are said to have remarked that Cézanne "is the father of us all." More
Léon François Comerre (10 October 1850 – 20 February 1916) was a French academic painter, famous for his portraits of beautiful women. He was born in Trélon, in the Département du Nord, the son of a schoolteacher. He moved to Lille with his family in 1853. From an early age he showed an interest in art and became a student of Alphonse Colas at the École des Beaux-Arts in Lille, winning a gold medal in 1867. From 1868 a grant from the Département du Nord allowed him to continue his studies in Paris at the famous École nationale supérieure des Beaux-Arts in the studio of Alexandre Cabanel. There he came under the influence of orientalism.
Comerre first exhibited at the Paris Salon in 1871 and went on to win prizes there in 1875 and 1881. In 1875 he won the Grand Prix de Rome for his painting "L'Ange annonçant aux bergers la naissance du Christ" (The Angel announcing the birth of Christ to the shepherds). This led to a scholarship at the French Academy in Rome from January 1876 to December 1879. In 1885 he won a prize at the "Exposition Universelle" in Antwerp. He also won prestigious art prizes in the USA (1876) and Australia (1881 and 1897). He became a Knight of the Legion of Honour in 1903. More
Giovanni Boldini (31 December 1842 in Ferrara, Italy – 11 July 1931 in Paris, France) was an Italian genre and portrait painter. According to a 1933 article in Time magazine, he was known as the "Master of Swish" because of his flowing style of painting. Boldini was born in Ferrara, the son of a painter of religious subjects, and in 1862 went to Florence for six years to study and pursue painting. He only infrequently attended classes at the Academy of Fine Arts, but in Florence, met other realist painters known as the Macchiaioli, who were Italian precursors to Impressionism. Their influence is seen in Boldini's landscapes which show his spontaneous response to nature, although it is for his portraits that he became best known.

Moving to London, Boldini attained success as a portraitist. He completed portraits of premier members of society. From 1872 he lived in Paris, where he became a friend of Edgar Degas. He also became the most fashionable portrait painter in Paris in the late 19th century, with a dashing style of painting which shows some Macchiaioli influence and the style reminds us the work of younger artists, such as John Singer Sargent and Paul Helleu. He was nominated commissioner of the Italian section of the Paris Exposition in 1889, and received the Légion d'honneur for this appointment.
A Boldini portrait of his former muse Marthe de Florian, a French actress, was discovered in a Paris flat in late 2010, hidden away from view on the premises that were unvisited for 70 years. The portrait has never been listed, exhibited or published and the flat belonged to de Florian's granddaughter who went to live in the South of France at the outbreak of the Second World War and never returned. A love-note and a biographical reference to the work painted in 1888, when the actress was 24, cemented its authenticity. The full length portrait of the lady in the same clothing and accessories, but less provocative, hangs in the New Orleans Museum of Art. More
Odilon Redon, born Bertrand-Jean Redon; ( April 20, 1840 – July 6, 1916) was a French symbolist painter, printmaker, draughtsman and pastellist. He was born in Bordeaux, Aquitaine, to a prosperous family. Redon started drawing as a child; and, at the age of ten, he was awarded a drawing prize at school. He began the formal study of drawing at fifteen. He briefly studied painting there under Jean-Léon Gérôme in 1864. 

He took up sculpting, and Rodolphe Bresdin instructed him in etching and lithography. His artistic career was interrupted in 1870 when he joined the army to serve in the Franco-Prussian War.

At the end of the war, he moved to Paris and resumed working almost exclusively in charcoal and lithography.It was not until 1878 that his work gained any recognition with Guardian Spirit of the Waters; he published his first album of lithographs 1879. Still, Redon remained relatively unknown until the appearance in 1884 of a cult novel by Joris-Karl Huysmans titled À rebours (Against Nature). The story featured a decadent aristocrat who collected Redon's drawings.

Baron Robert de Domecy (1867–1946) commissioned the artist in 1899 to create 17 decorative panels for him.  The compositions for the château de Domecy in 1900–1901 were his most radical compositions to that point and marked his transition from ornamental to abstract painting. The landscape details do not show a specific place or space. Only details of trees, twigs with leaves, and budding flowers in an endless horizon can be seen. The colours used are mostly yellow, grey, brown and light blue. The influence of the Japanese painting style found on folding screens byōbu is discernible in his choice of colours and the rectangular proportions of most of the up to 2.5 metres high panels. Fifteen of them are located today in the Musée d'Orsay, acquisitioned in 1988.

Domecy also commissioned Redon to paint portraits of his wife and their daughter Jeanne, two of which are in the collections of the Musée d'Orsay and the Getty Museum in California.
In 1903 Redon was awarded the Legion of Honor. His popularity increased when a catalogue of etchings and lithographs was published by André Mellerio in 1913; that same year, he was given the largest single representation at the New York Armory Show. More
The first painting was by Leonardo da Vinci, created c1515 during the Italian Renaissance; this Leda is by Otto Dix, created more than 400 years later. In Leonardo's naturalistic picture, Leda's image resembles a human with shading and his landscape is true to life. Dix, however, distorts Leda both geometrically and with color to describe the force of the scene. It is important to note that neither Leda depiction is "correct." More accurately, each depiction could be described as representative of the context in which it was made. For Leonardo, his depiction showcases the classic. More

Wilhelm Heinrich Otto Dix (2 December 1891 – 25 July 1969) was a German painter and printmaker, noted for his ruthless and harshly realistic depictions of Weimar society and the brutality of war. Along with George Grosz, he is widely considered one of the most important artists of the Neue Sachlichkeit. More
Parkes, Michael (American, b. 1944) – 
Leda and the Swan – 2005
Born in 1944, Michael Parkes studied graphic art and painting at the University of Kansas and then traveled for three years through Asia and Europe. In 1975, Michael Parkes settled in Spain, where he now lives. Throughout his career, numerous international exhibitions underline the importance of Parkes' work. Michael Parkes is both a uniquely talented painter and master of the art of original stone lithography. More
Adam Miller 
Leda and the Swan, c. 2008
Children of Zeus
Born in 1979 in Oregon, Adam Miller began an apprenticeship to artist Allen Jones at thirteen years old and at Sixteen, was accepted to the Florence Academy Of Art in Florence and continued his studies under Michael John Angel in Florence. For the next four years Miller traveled throughout Europe studying the workof the Baroque and Mannerist painters. More
Leda and the Swan. 1944-46
Triptych
Oil on wood panel
Private collection
Henri Émile Benoît Matisse was a French artist, leader of the Fauve group, regarded as one of the great formative figures in 20th-century art, a master of the use of color and form to convey emotional expression.
Henri Matisse was born in December of 1869 in Le Cateau, France. He began painting during a convalescence from an operation, and in 1891 moved to Paris to study art. Matisse became an accomplished painter, sculptor and graphic designer, and one of the most influential artists of the 1900s. More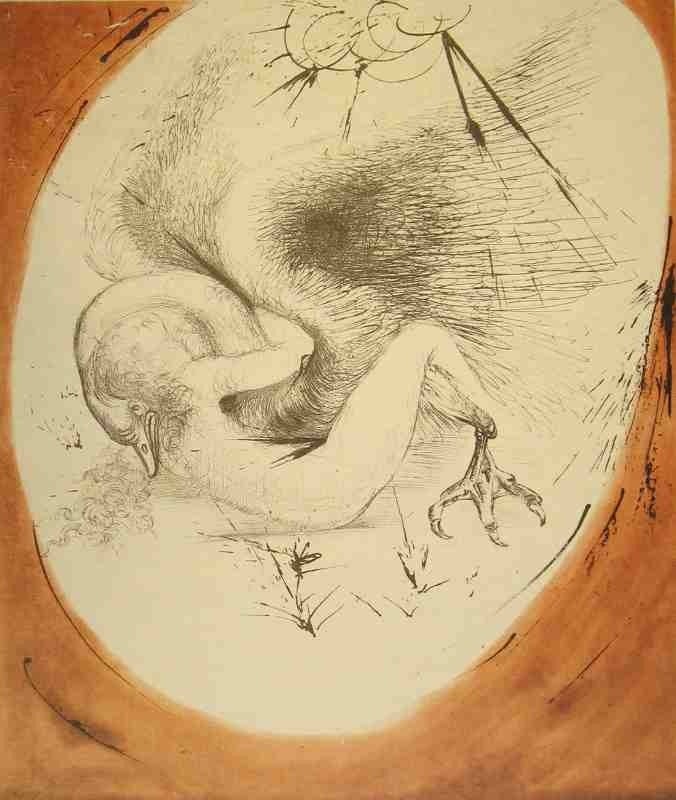 Leda and the Swan 1963
Etching
19.9 x 15.96 in
Edition #: LVIII/C
Leda Atomica, c. 1949
Oil on canvas
61.1 cm × 45.3 cm (24.1 in × 17.8 in)
Dalí Theatre and Museum
Leda Atomica is a painting by Salvador Dalí, made in 1949. The picture depicts Leda, the mythological queen of Sparta, with the swan. Leda is a frontal portrait of Dalí's wife, Gala, who is seated on a pedestal with a swan suspended behind and to her left. Different objects such as a book, a set square, two stepping stools and an egg float around the main figure. In the background on both sides, the rocks of Cap Norfeu (on the Costa Brava in Catalonia, between Roses and Cadaqués) define the location of the image. More
Dalí began painting his Leda in  1945, in the United States. The painting depicts Leda face-on, sitting on a pedestal, and with her left hand caressing a swan approaching her as if to kiss her. Around the main figure are various objects such as a book, a set square, an egg which might represent the fruit of the union between Leda and the swan, from which the twins were born. In the background are the rocks of Cape Norfeu, situated between Roses and Cadaqués, that serves as a reference to the painter's  homeland.

Leda Atòmica was executed  following the divine proportions  conceived  by Luca Paccioli, a painter from  the Italian Renaissance period. Leda and the swan are set in a pentagon inside of which is a five-point star that  Dalí sketched  several times. The artist calculated the harmony of the references by  following the rules of the mathematician Matila Ghyka, who, at the time, was  teaching at the University of San Diego. His works showed that divine proportion lies at the foundation of any work. Dalí, unlike his contemporaries who thought that mathematics distracted from or interrupted artistic inspiration, considered that any work of art, to be such, had to be based on composition and  calculation.

His wife and muse sat as his model, and in Dalí's interpretation we see that love is treated in a more spiritual manner than it is in the work of other painters, who saw the more carnal side of the myth… More
Salvador Domingo Felipe Jacinto Dalí i Domènech, Marqués de Dalí de Pubol (11 May 1904 – 23 January 1989), was a prominent Spanish surrealist painter born in Figueres, Catalonia, Spain.
Dalí was a skilled draftsman, best known for the striking and bizarre images in his surrealist work. His painterly skills are often attributed to the influence of Renaissance masters.His best-known work, The Persistence of Memory, was completed in August 1931. Dalí's expansive artistic repertoire included film, sculpture, and photography, in collaboration with a range of artists in a variety of media.
Dalí attributed his "love of everything that is gilded and excessive, my passion for luxury and my love of oriental clothes" to an "Arab lineage", claiming that his ancestors were descended from the Moors.
Dalí was highly imaginative, and also enjoyed indulging in unusual and grandiose behavior. His eccentric manner and attention-grabbing public actions sometimes drew more attention than his artwork, to the dismay of those who held his work in high esteem, and to the irritation of his critics. More
Leda and The Swan
Francesca Woodman